All this happened…
Escaping from Reality Without Really Trying: 40 Years of High Seas Travels and Lowbrow Tales (Cloud Books, 2011)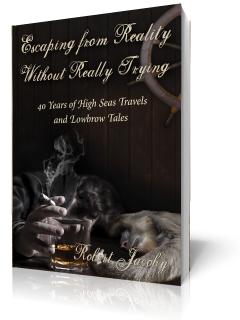 Based on nearly 40 hours of interviews, Escaping from Reality Without Really Trying is the memoir of a 61-year-old, life-long merchant seaman re-counting his fantastic, hilarious, and politically incorrect exploits.
A "welcome relief after a long day at the office when the idea of throwing it all up and running off to sea suddenly seems like the most brilliant idea in the world." – B. Morrison, poet and author
"This is definitely the kind of book that can be read with a beer in hand, as Jacoby states in his author's note 'Now, go grab a cold one. You're gonna need it.'" – San Francisco Book Review
Visit the book website, escaping-from-reality.com
Read the chapter "Cape John"
(published in The Oregon Literary Review, Summer/Fall 2008) (now defunct)
Read the excerpt "What Will Entertain People"
(published in Alice Blue Review, Number Eight)
Never Stop Dancing (working title)
This memoir, co-authored with John Robinette, is based on interviews that took place the year after John's wife, Amy Polk, was killed in a pedestrian traffic accident in Washington, D.C., on April 29, 2010. John has already documented some of his journey at his blog, Hole in the Sun. The book will record the deeper journey of how John's new life with his two young sons was unfolding after Amy's death, as it was unfolding. It will be a unique vision, one rarely told in time.
…and I woke up one day to discover I'd written 800,000 850,000 1,000,000 words.
Notebooks
Besides keeping writer's sketchbooks, which contain ideas and notes for poems, portions of novels, and other works, I've kept personal notebooks. Since 1985 I have written about 800,000 850,000 1,000,000 words…reflections on events, life, and my work. I've written about that here.